Attractions in Niagara Falls
Canada Jacuzzi Hotels
We've only been to Canada a couple of times, but we sure did enjoy every second we were there, and we always think about going back some day.
However, our first trip to Canada was to Beauce, Quebec to do some goldpanning.
Our second trip was to Niagara on the Lake to photograph our friends wedding. This is when we took in the sights of Niagara Falls, from the Canada side of the Falls.
We enjoyed every second we were at Niagara on the Lake, even though we stayed with friends in St. Catherines.
Niagara-on-the-Lake
It is so scenic, and the downtown area was full of little shops you could browse. Hope you enjoy our pictures.
Fort George, Niagara Canada
Unfortunately, we didn't get to tour the inside, but just walking around and marveling at the structure, scenic views, and old cannons, was enough to satisfy us.
Beauce, Quebec
We were invited to do some gold panning in Beauceville, located in the Beauce Valley in Quebec. We went with a club called the Goldminers of New England out of Athol, MA.
Quebec Hotels
A variety of popular hotels in Quebec, and there sure are a lot of them. It's important to plan your trip ahead of time. That makes for a lot less things to think about, and more time to enjoy yourself.
Niagara Falls pictures from the Canadian side. Niagara at Night
Niagara Falls Canada Hotels - This page has a list of all the popular hotels on the Canada side of Niagara Falls. The hotels are linked to their respective page with pictures and information.
Winter Festival, November to January
Free, fun and family are all key ways to describe the action of the Annual Winter Festival of Lights. For more information call 905-356-6061
New Year's Eve in the Park (televised)
Come and join in on the fun with the family. This non-alcoholic event can be enjoyed by every age. Come and see all the Disney® displays and enjoy the fireworks. For more information call 905-356-2241
Marineland's King Waldorf's Palace
Features video and arcade games galore all under one, very big roof. All ages can play fun games and, best of all, win great prizes.
Need more thrills? Then climb aboard Sky Hawk to get a bird's eye view of the entire Marineland funscape or take a white-knuckle ride on the Flying Dragon. Then give some of our other amusement rides a whirl. For more information call 905-356-9565
Niagara Food Festival
The annual Niagara Food Festival invites you to sample 40 of the Niagara Regions restaurants complimented by world class Niagara wines. A family event complete with entertainment and fireworks. Free Admission.
Whirlpool Aero Car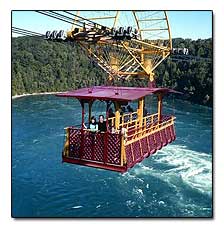 When you ride the Whirlpool Aero Car, you can get a breathtaking view of the Niagara River's Whirlpool Rapids. The Whirlpool Aero Car is located at 3850 Niagara River Parkway Niagara Falls, Ontario, Canada, 3 miles down-river from the Horseshoe Falls. The Aerocar is open from mid-March to mid-November and priced at $11.00 Canadian per adult and $6.50 per child. (905)354-8983
The aerial cable car travels safely between two different points of the Canadian shore of the Niagara River over the spectacular Whirlpool. A round trip is about one kilometre (3,600 feet) and takes about 10 minutes to navigate. The capacity of the car is 35 standing passengers. See large picture
History: The aero car was designed by a Spanish engineer, Leonardo Torres Quevedo and has been in operation since 1916.
The cable car is suspended from six sturdy cables and offers a wonderful view of the Niagara Whirlpool which is formed at the end of the rapids where the gorge turns abruptly counterclockwise and the river escapes through the narrowest channel in the gorge.
The IMAX® Theatre
You and your family will thrill to the excitement of Niagara: Miracles, Myths and Magic. See the wonders of the Falls up close and travel back in time for a glimpse of its 12,000 year old history at the Niagara Falls IMAX® Theatre. The most spectacular IMAX® adventure of all. From the comfort of your seat, you'll thrill to the larger-than-life vista of raging waters as you take a heart pounding ride over the Falls and experience other death-defying stunts at the Niagara Falls IMAX® Theatre, Canada's largest movie screen over six stories high! For more information call 905-374-361
Marineland Theme Park
Marineland is the place to go for spectacular marine animal shows. Join mascot, King Waldorf, and his mischievous side-kick, Chester the Jester, for loads of laughs, thrills and excitement. You'll see awesome killer whales, who will amaze you with displays of their power and grace. You'll laugh out load as talented sea lions compete for your applause with their crazy antics. You'll be charmed by lovable dolphins who with their friendly smiles, will leap and spin their way into your hearts.
Clifton Hill
Clifton Hill is the major tourist promenade in Niagara Falls, Ontario. The street is in close proximity to Niagara Falls and the Niagara River. It leads from River Road on the Niagara Parkway to intersect with Victoria Avenue. The street contains a number of gift shops, wax museums, haunted houses, restaurants, hotels and themed attractions including Ripley's Believe It or Not! and 4D Moving Theatre, the Guinness World Records Museum and the nearby Louis Tussaud's Waxworks.
The typically bustling area is often regarded as a tourist trap by local residents and is thus often avoided due high pedestrian and vehicle traffic. For visitors, particularly families and teenagers, it is a major amusement area and center for night life.
---
This information is gathered from our own personal trips to Canada.
Therefore, information on the pages may change as far as restaurants, hotels, things to do, etc.