Niagara Falls
Views from Canada
These are pictures of Niagara Falls, taken from the Canadian side.
Niagara Falls comprises three separate waterfalls: the Horseshoe Falls (sometimes called the Canadian Falls), the American Falls, and the smaller, adjacent Bridal Veil Falls.
Peak numbers of visitors occur in the summertime, when Niagara Falls are both a daytime and evening attraction.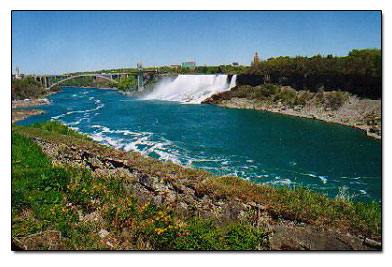 The Falls
The top picture is the American Falls by the Rainbow Bridge, the bottom picture is the Horseshoe Falls, and the cruise boat, Maid of the Mist cruises by both of these Falls.
From the Canadian side, floodlights illuminate both sides of the Falls for several hours after dark (until midnight).
From the American side, the American Falls can be viewed from walkways along Prospect Park, which also features an observation tower. Nearby, the Cave of the Winds trail leads hikers down some three hundred steps to a point beneath Bridal Veil Falls. The Niagara Scenic Trolley offers guided trips along the American Falls. See the Falls at Night.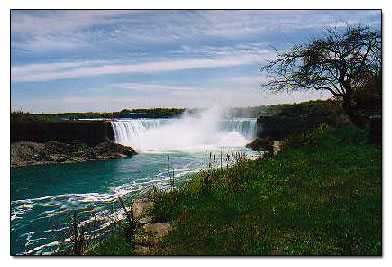 Erosion of the Falls
Erosion over the years has caused the Horseshoe Falls to take the shape that it has. In 1678 it was straight across, and it has been losing about a foot a year in large rocks and boulders being torn from the cliff.
In 1969 they turned off the American Falls to work on preserving them.
While the Horseshoe Falls absorbed the extra flow, the US Army Corps of Engineers studied the riverbed and mechanically bolted faults which would otherwise have hastened the retreat of the American Falls. A plan to remove the huge mound of talus deposited in 1954 was abandoned owing to cost, and in November 1969, the temporary dam was dynamited, restoring flow to the American Falls.
Saving the Falls
Before the 1950's, 3 feet was being eroded away every year, but they have made attempts to reroute some of the fast flowing water. The Horseshoe Falls are 170 feet high, and the American Falls are 110 feet.
Back to Niagara Falls Tour
Next Journey Behind Niagara Falls
---
This information is gathered from our own personal trips to Canada.
Therefore, information on the pages may change as far as restaurants, hotels, things to do, etc.