Knights Inn
7034 Lundy's Lane
Niagara Falls Canada
The Knight's Inn is centrally located in Niagara Falls, only minutes from all major attractions.
The AAA-CAA approved Knights Inn, located only two miles from the falls, offers a wide variety of accommodations to suit every need and budget.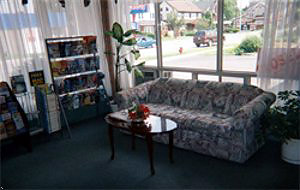 Knights Inn
7034 Lundy's Lane
Niagara Falls Canada
Amenities
Bar/Lounge - Beach - Business Center - Casino - Courtesy Car - 24 Hour Front Desk - Express Checkout - Fishing - Free Parking - Free Local Telephone Calls - Golf - No Smoking Rooms/Facilities - Free Newspaper - Pool - Heated Pool - Outdoor Pool - Parking - Truck Parking - Restaurant - Shops/Commercial Services - Tennis - Television with Cable
Check in time is 02:00 PM Check out time is 11:00 AM Time Zone is EST
Opened in 1980 Renovated in 1999 64 rooms. 2 floors.
Canadian Dollars is the native currency.
Accommodations
Single, double, and large rooms with 3 double beds are available at this Knights Inn location. Try one of their package plans or Bed and Breakfast specials.
Guest Room, Single:
Guest Room, Double: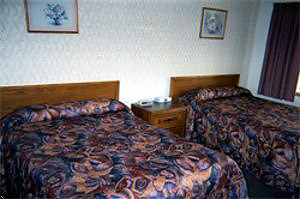 Guest Room, Triple: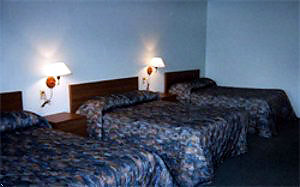 Recreation Information
Hotel Pool - Relax in their heated pool or visit numerous attractions nearby.
Activities (off Site): Bruce Trail (3 mi), Cinemas, Clifton Hill Amusement Park (2mi), Fort Erie Race Track (20 mi), Great George Adventure (2 mi), Horseshoe American Falls (2 mi), IMAX Theater (1 mi), Niagara Casino (1 mi), Shaw Theater (20 mi), Skylon Tower (1 mi), Vincor Winery (1 mi), Factory Outlet Mall (7 mi), Niagara Square Shopping Center (2 mi); Niagara Falls Memorial Arena (1 mi), The Penn Shopping Center (15 mi); Niagara Falls NY Convention Center (3 mi), Copps Coliseum (60 mi), Niagara Falls City Hall (5 mi), Niagara College (1 mi)
Activities: Amusement Park, Baseball, Hiking, Shopping, Bicycling, Bowling, Museum/Gallery Viewing, Sightseeing Tours, Basketball, Children's Activities, Nature Preserves, Trails, Theater, Billiards/Snooker, Fishing, Sailing/Boating, Wine Tasting, Gambling, Swimming, Water Sports
Attractions: Niagara Fall View Casino - 2 miles
Sports/Recreation: Niagara On The Lake (20 mi S) Clifton Hill Amusements (2 mi E) Niagara Helicopter (2 mi E) Butterfly Conservatory (3 mi NE) Marine land ( 15mi W) Niagara Falls (2 mi E) Behind The Falls (2 mi E) Canadian National Exhibition (70 mi W) Hockey Hall Of Fame (70 mi W) Maple Leaf Gardens (72 mi W) Toronto Beaches (70 mi W) Shopping Malls ( 0.5 mi E)
Restaurant Information
They offer: CAA approved Breakfast and Dinner packages. The hotel is in close proximity to several restaurants and bars
Fine Kettle of Fish
Red Lobster
Keg - 2 miles
TGI Friday's - 2 miles
Rainforest Cafe' - 2 miles
East Side Mario's - 1 mile
Mick Angelo's - 1 mile
Directions
Follow Queen Elizabeth Hwy towards Niagara. After entering the city, Hwy will split into Hwy 420 and Queen Elizabeth Hwy Fort Erie. Follow QEW Fort Erie and take Lundy's Lane exit. At Montrose Rd make left at Lundy's Lane . Make a left turn, they are located 2 blocks on the right side
Follow Queen Elizabeth Hwy from Fort Erie towards Niagara, take McLead Rd exit. Turn east (right) onto McLeod Rd next light (Dorchester Rd) make left turn and proceed for 2 more traffic lights to Lundy's Lane. Make left turn on Lundy's Lane, they are located 1 block on left side.
Take Interstate 90 west towards Buffalo. Take 190/Exit - 53 quot;Bridge to Canadaquot; - Follow exit 53 to 190 North and then take Exit - 9 quot;Peace Bridge.quot; Cross Peace Bridge into Canada, clear customs, and follow QEW to Niagara (South)
From Hwy 20 towards Niagara Falls - Note Hwy 20 becomes Lundy's Lane. Located 2 blocks and be right from Intersection of Lundy's Lane and Montrose.
2 from Hwy 401 (Wamp;E) follow Hwy 427 to Queen Elizabeth Hwy Niagara see (North). Toronto - Hwy 427 South towards QEW, take QEW to Niagara see (North). Buffalo - Take Hwy 33 W to Interstate 90 West, take 190 to Buffalo and Peace Bridge. Take exit - 9 Peace Bridge, see (South)
---
AAA Hotels - See a list of the hotels chains that accept Triple A.
Canada Wolfe Island Bakery Restaurant - Wolfe Island Bakery, located on Road 96 on Wolfe Island in Marysville, Ontario .
CoolTan Tan Through Clothing and beachwear - Don't go on vacation without them!
---